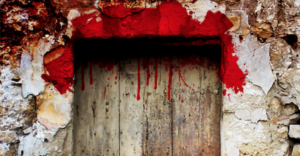 Following on the heels of my last post, I specifically pointed out that the Passover sacrifice was NOT a sacrifice for sins!
First, the first passover occurred way before the Levitical sacrificial system was established.
Second, when establishing the Passover as an annual observance, the Lord specifically referred to the slain lamb as a ZEVAH PESACH which could be translated as a "Gratitude" or "Thank you" offering.
THE ZEVAH PESACH WAS NOT AN OFFERING FOR SIN!
Well, all of this leads us to the question of what purpose did the life blood of the ZEVAH PESACH serve when it was shed and dabbed on the doorposts of the Israelites' homes?
The answer is that it served as a clear message to Egypt and later the other polytheistic nations that there is only ONE God in heaven and earth.
Remember, lambs were sacred animals to Egyptians.
They were considered divine.
In response to the idolatry of Egypt, YHVH was basically saying "if you are going to use the imagery of a lamb or any animal and call it God, I will demonstrate to you that there is no other God beside me. Therefore, I have commanded my true sons, B'NAI Israel to kill your lambs and show you that there is no other God that lives anywhere in any visible form".
Obviously the above quote is a paraphrase but I think you get the idea.
Israel was free to take what the Egyptians considered to be their gods (the lambs) into their homes, kill them and then smear their blood onto the doorposts of their homes.
Bottom line, Israel can NEVER consider as deity what the nations have made into gods.
Israel is forbidden from attaching themselves to the gods of the other nations.