"So Moses and Aaron went to Pharaoh and did just as the Lord commanded. Aaron threw his staff down in front of Pharaoh and his officials, and it became a snake.  Pharaoh then summoned wise men and sorcerers, and the Egyptian magicians also did the same things by their secret arts: Each one threw down his staff and it became a snake. But Aaron's staff swallowed up their staffs."-Exodus 7:10-12
For some reason, the Scripture goes out of its way to tell us that Moses and Aaron were respectively 80 and 83 years old when they approached Pharaoh.
I wonder if God is trying to tell us something here.
If there be any in their more mature years who are reading this, let this be positive evidence that God can use you mightily at any age.
Recall that God called Abraham to leave his hometown when he was an elderly man and here Moses and Aaron are about to embark on the adventure of their lifetimes at an age when most people are shunning dangerous and new risky experiences.
So we're told that Aaron threw down his staff and it instantly transformed into a hissing serpent.
Why a serpent?
Well, consider this.
Pharaoh actually wore a real and live serpent on his regal headdress.
And the serpent was the Egyptian symbol of royal authority and healing.
Thus, this was a direct frontal attack on Pharaoh's authority.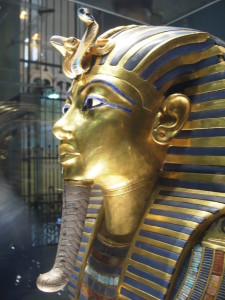 One point of interest here.
The Hebrew word used for "serpent" that Aaron's staff transformed into is TANIN.
This is a different word than the word used for snake in the Burning Bush episode.
That word is NAASH.
The word TANIN is usually a larger threatening reptile and is sometimes used to describe the Egyptian crocodile or a mythological dragon.
Note verse 15:  "Go to Pharaoh in the morning as he goes out to the river. Confront him on the bank of the Nile, and take in your hand the staff that was changed into a snake."
The Hebrew word for snake here is NAASH, not TANIN.
Thus, many think that here God was alluding to the Burning Bush incident and not when Aaron's staff transformed into a serpent in front of Pharaoh.
Well, in short order, Pharaoh's sorcerers respond by turning their staffs into snakes.
However, note that Aaron's staff overwhelmed that of the magicians and swallowed up their snakes.
The spiritual takeaway here is that the god of this world, Satan, is perfectly capable of and will perform miracles to achieve his evil ends.
I don't know how many times I've met somebody, whether from a cult religion or some kind of new age faith, professing the truth of their belief system based solely on certain miraculous signs they were given.
"Transcendental meditation cured my depression!"
"Yoga cured my headaches!"
"A yogi levitated in front of 150 witnesses!"
"Visualization made me wealthy!"
I don't doubt that these testimonies of supernatural or miraculous events are true.
What concerns me is the SOURCE of the power from which these people are drawing.
If they are not coming in the name of YHVH, the living one and only God of Israel, then I cannot partake.
And anyway, as believers we have access to a power so much greater than what exists in Satan's kingdom.
Aaron's snake swallowing up the magician's snakes is proof of this.
Nevertheless, the arrogant Pharaoh was not impressed and scoffed at Moses and Aaron.
It would take a series of truly cataclysmic miraculous events to shake him.
CONNECTING THIS TEACHING TO THE NEW TESTAMENT
"For false messiahs and false prophets will appear
and perform great signs and wonders to deceive,
if possible, even the elect.
See, I have told you ahead of time."
-Matthew 24:24-25
"The coming of the lawless one will be
in accordance with how Satan works.
He will use all sorts of displays of power through signs
and wonders that serve the lie, 
and all the ways that wickedness deceives those who are perishing.
They perish because they refused to love the truth and so be saved."
-2 Thessalonians 2:9-10