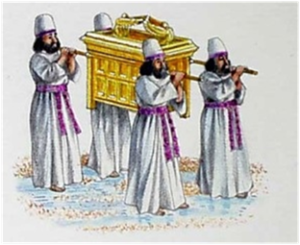 For anybody who has even a cursory understanding of the Bible, it's no secret the Tribe of Levi was chosen to be the priestly tribe for God.
However, although given the label "priestly tribe", the truth is NOT all Levites were priests.
To put it simply, the terms "Levites" and "priests" are NOT synonymous.
It's true all members of the tribe of Levi were to be involved in service to the Tabernacle in some form or another but only a slight minority actually became "priests".
Understand when I say "priests" I am specifically referring to those Levites who officiated at the sacrificial rituals.
So what might some of the other non-priestly duties of a Levite be?
Well, all kinds of stuff.
If anybody has ever been involved in the operations of a church ministry, I'm sure you're well aware of all the preparations necessary to keep things moving forward smoothly such as clean up and setting up chairs etcetera.
It was the same with the operations of the Tabernacle.
There were all kinds of blue collar tasks that needed to be done including guard duty to ward off potential spies and invaders.
So while the term "Levite Priests" is often used in reference to the whole tribe of Levi, the truth is only a few Levites ever became priests.
And this was determined solely by which of the clans from within the tribe of Levi one was born into, which leads me to an important fact I need you to put in your back pocket for future use because it will come in handy later.
Per the Lord's command, the High Priest was ONLY to come from the descendants of Aaron's son Eleazar.
This is important.
Let me say that again.
Only the descendants from Aaron's son Eleazar are qualified to be the High Priest per the Lord's command.
The reason I emphasize this is because during a wild and wacky period of Israel's history, there was a time when there were actually two high priests, one from God's designated line and an illegitimate one.
So understanding this fact will help you greatly in understanding the political conflicts during that time and why things turned out the way they did.
Alright, let's call it a wrap.