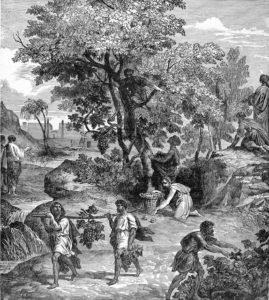 "The Lord said to Moses, "Send some men to explore the land of Canaan,which I am giving to the Israelites. From each ancestral tribe send one of its leaders."'"-Numbers 13:1
In the opening verses of Numbers Chapter 13 we run straight into a dilemma.
Verse 1 says that "Adonai said to Moshe, 'Send men…."
However, let's compare this to the following verses from Deuteronomy.
"You approached me, every one of you, and said, 'Let's send men ahead of us to explore the country for us and bring back word concerning what route we should use in going up and what the cities we will encounter are like.'  The idea seemed good to me, so I took twelve of your men, one from each tribe."-Deuteronomy 1:22-23
Notice the slight contradiction?
Numbers chapter one tells us the Lord commanded Moses  to "send" men whereas Deuteronomy chapter one tells us that the Israelites themselves came up to Moses seeking permission to go explore the land of Canaan.
How to solve this conundrum?
Simple.
This problem is easily solved the way we've solved many other apparent Scriptural mysteries.
Let's just check out the original Hebrew folks!
The Hebrew word for "send" in Numbers 13:1 is SHELAH-LEKHA and it does NOT just mean "to send"
It actually means to "to send for yourself".
Actually, the Complete Jewish Bible correctly captures the proper nuance.
Adonai said to Moshe, "Send men on your behalf to reconnoiter the land of Kena'an, which I am giving to the people of Isra'el. From each ancestral tribe send someone who is a leader in his tribe."-Numbers 13:1-2 (Complete Jewish Bible)
Here's what's going on.
In Numbers 13, God is telling Moses that if the people want to or feel it's necessary to explore the land beforehand, God doesn't have any problem with that.
"Go ahead and send some people to check out the land if that will soothe your worries and concerns" is the gist of what God is telling Moses.
This is totally different than God issuing out a command to Moses to handpick some men to spy out the land as a preliminary to a military invasion.
This actually leads me to my next point.
What's being talking about here is NOT some military-like spy operation.
In other words, the men weren't going to "spy out" the land.
Rather they were were going to "scout" the land.
There's a difference between "spying" and "scouting".
It's as big a difference as between "kidnapping" and "escorting" or "shoplifting" and "shopping".
What's being instructed here is to scout out the land to reassure the people that Canaan is indeed a beautiful land flowing with milk and honey.
Think of a married couple exploring different neighborhoods to determine whether a certain area would be a suitable place to raise their children or not.
That's kind of like what's going on here.
Another way we know this wasn't a spy operation is because of the number of people who were sent out.
If this was a stealth operation, there's no way they would have sent out 12 people.
That's way too many.
A max of about two or three is all that's needed before the ability to stay undercover is compromised.
Later on in Torah, we are going to witness real "spying" for military invasion purposes and when we do, we'll see that only about two or three men were sent out, not a whole group as if it was some school field trip.