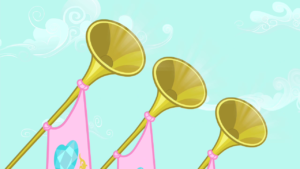 The holy use of trumpets is also echoed in the Apostolic Scriptures (AKA New Testament) especially as it concerns end times happenings.
We have learned there are many different reasons why the trumpets were to be blown.
The trumpets were to be used for worship, to warn the people or to assemble a fighting men for war.
And we must never forget the trumpets were only to be blown by the priests.
The reason I emphasize this is because the pattern being shown to us is that only those who have been anointed with a special high-holy status are allowed to blow the trumpets.
That is precisely why we see the angels in heaven blowing the trumpets.
Think about it.
What is an angel?
An angel is nothing less than a spiritual being that carries a special HOLY status granted to it by God.
And another vitally important thing for you to recognize is that how the trumpets are used in the New Testament follow the protocol and patterns established right here in Torah.
Now notice verse 10.
"Also on your days of rejoicing, at your designated times and on Rosh-Hodesh, you are to sound the trumpets over your burnt offerings and over the sacrifices of your peace offerings; these will be your reminder before your God. I am Adonai your God."-Numbers 10:10
Notice anything peculiar about that verse?
That's right, the silver trumpets are to be blown on "joyous occasions" and the new moons (Rosh-Hodesh)!
We're talking about the seven God-ordained Biblical Feasts baby!
That's what "designated times" means!
In ancient Israel during these festivals (either when the Tabernacle or the Temple was standing), the trumpets were blown during the OLAH (Burnt Offering) and the ZEVAH SHELAMIM (Peace Offering).
Finally, let me clear up another point that is grossly misunderstood in the church.
These silver trumpet blasts had nothing to do with music.
The priests were NOT playing songs.
They were specifically timed blasts that were to be done precisely as we are studying here in Numbers 10.
Or to put it another way, these silver trumpets were NOT considered to be musical instruments!
Got it?
They were more like communication devices.
The Levites had other specially dedicated musical instruments they used to play songs usually used when the Psalms were sung.
CONNECTING THIS TEACHING TO THE NEW TESTAMENT
"And He will send forth His angels
with a great trumpet
and they will gather together
His elect from the four winds,
from one end of the sky
to the other."
-Matthew 24:31
"In a moment,
in the twinkling of an eye,
at the last trumpet;
for the trumpet will sound,
and the dead will be raised imperishable,
and we shall be changed."
-1 Corinthians 15:52
"For the Lord Himself will descend
from heaven with a shout,
with the voice of the archangel,
and with the trumpet of God;
and the dead in Messiah shall rise first."
-1 Thessalonians 4:16
"And I looked,
and I heard an eagle flying in midheaven,
saying with a loud voice,
"Woe, woe, woe,
to those who dwell on the earth,
because of the remaining blasts
of the trumpet of the three angels
who are about to sound!"
-Revelations 8:13
"And the sixth angel sounded,
and I heard a voice
from the four horns of the golden altar
which is before God,
one saying to the sixth angel
who had the trumpet,
"Release the four angels
who are bound
at the great river Euphrates."
-Revelations 9:13