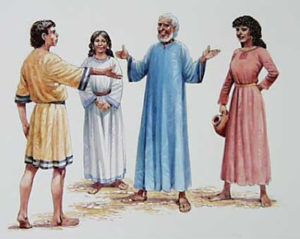 "You are not to have sexual relations with both a woman and her daughter, nor are you to have sexual relations with her son's daughter or her daughter's daughter; they are close relatives of hers, and it would be shameful. You are not to take a woman to be a rival with her sister and have sexual relations with her while her sister is still alive."-Leviticus 18:17-18
In verses 17 and 18 we shift away from the issue of marriage between blood relatives to simply moral matters involving sex.
We're told that a man should not have sex with both a woman and her daughter.
Specifically, this daughter is a child the woman gave birth to with another man.
Then in verse 18 we come to the injunction that one is NOT to marry two or more sisters or take them both as wives at the same time.
Okay, we have a little problem here.
This command is explicitly violated by some of the most Godly men in the Bible.
Abraham claims that Sarah is his half sister.
Later on, David's daughter appears to think its okay for her father to arrange a marriage between her and her half brother Amnon.
And probably the most famous example of them all: Jacob marries two sisters, Rachel and Leah.
Although Jacob's marriage to Rachel and Leah occurred BEFORE Leviticus, we must still ask the question of were they in the wrong?
I've read quite a bit of commentary on this and the only somewhat satisfactory answer I can come up with is although it was not God's ideal will, it was his general will to permit it at that time.
Sorry.
That's the best I can do and I'm not going to allegorize or come up with some super lofty nice-sounding reason to defend God's choices and rulings on certain matters.
Although it wasn't ideal, he allowed it at the time, and that's that.
This wouldn't be much different with the issue of eating meat which was prohibited before the flood but was permitted to eat after the flood.
Why?
I don't know.
I think we need to become a little more comfortable with the tension that sometimes exists between God's IDEAL and His commands.
Take the matter of pre-marital sex.
Is it God's ideal will to keep ALL sexual activity between married people only? 
Absolutely!
Will you find a specific command in Torah prohibiting sex before marriage?
You will NOT!
You can search high and low and take a high-powered microscope to the Torah and you will not find one "Thou shall NOT have sexual relations with an unmarried woman" commandment, NOT ONE! 
This reminds me of a true story I was reading about an Israeli female spy working for Mossad.
As an attractive operative in service to protect her country, she sometimes had to sleep with her targets to accomplish her mission objectives.
That's right, I'm talking about a single female bedding down with men who she was obviously not married with to either get information critical to a mission or maybe later she was going to assassinate them or maybe both.
Was it God's ideal will for this unmarried female spy to have sex with different men?
Absolutely not.
Was it is His general will that He would allow it if the actions she took would protect the Holy Land?
I would say yes.
My point in sharing this is that in a fallen world, sometimes there are situations where we CANNOT fulfill God's ideal will.
And there are even situations that arise where we might actually have to break a commandment to adhere to a more important commandment.
Think of a doctor working on Shabbat to save a life.
What's more important, that the doctor rest per the "Thou shalt not work on Shabbat" command or that he work so he can save a life.
Unless you're retarded, I think the answer is obvious.
Look at the world we live in man!
We don't live in a black-and-white world where everything is as easy as 1 plus 1 equals 2.
We live in a fallen world where there is sickness, sin, death, war, earthquakes, crime, divorce, and the list goes on and on.
We prayerfully do the best we can with what the Lord has provided.
Thank HASHEM for His Word and thank Him for His Grace.