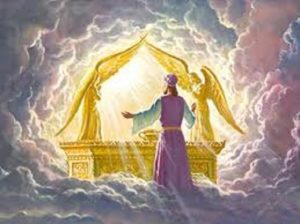 "Adonai spoke with Moshe after the death of Aharon's two sons, when they tried to sacrifice before Adonai and died; Adonai said to Moshe, "Tell your brother Aharon not to come at just any time into the Holy Place beyond the curtain, in front of the ark-cover which is on the ark, so that he will not die; because I appear in the cloud over the ark-cover."-Leviticus 16:1-2
The starting verse of Leviticus 16 makes it abundantly clear just how dangerous the High Priest's job is.
Hearkening back to chapter 10 when in an instant YHVH killed Aaron's two sons Nadav and Avihu for offering strange fire, the Lord makes it clear that no priest is allowed to enter into the chamber of His HOLY presence (the Holy of Holies), minus His express permission to do so.
At this point in Leviticus, the death of Aaron's two sons (who had just been ordained as priests at the time) was fairly recent.
Now I want you to brace yourself because I'm about to throw a bucket of icy cold water on a common Christian notion that is just NOT true.
The idea that Yeshua believers today have access into the Holy of Holies is hogwash.
It is not true and it is NOT TRUE metaphorically or otherwise.
Blood-bought Yeshua believers cannot enter into the Holy of Holies.
In the New Testament, believers are equated to "common priests" and thus are only allowed to go as far as the HOLY PLACE or the outer chamber of the Holy Sanctuary.
The Holiest of Holies is set apart for ONLY YHVH and for His chosen Mediator, the High Priest.
Let me say that again.
ONLY the Father and His designated Mediator, the High Priest are allowed access into the Holy of Holies!
Got it?  
Common believers are permitted to go as far as the Holy Place, but no further.
When these corrupt bodies we are currently inhabiting are exchanged for transformed bodies in the future that will change, but until then we cannot get any closer to the Lord than the Holy Place.
CONNECTING THIS TEACHING TO THE NEW TESTAMENT
"For the Messiah has entered a Holiest Place
which is not man-made
and merely a copy of the true one,
but into heaven itself,
in order to appear now on our behalf
in the very presence of God."
-Hebrews 9:24