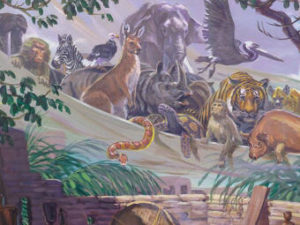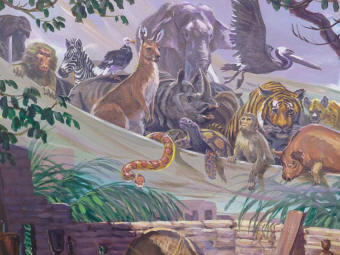 Today I want to take on one of the most classic verses the modern church has incorrectly used to show that the Kosher food laws have been abolished.
I'm talking about Acts 10 where we are told Peter had a vision of a sheet full of animals lowered down from heaven containing every manner of unclean animals.
So let's read it.

"About noon the following day as they were on their journey and approaching the city, Peter went up on the roof to pray.  He became hungry and wanted something to eat, and while the meal was being prepared, he fell into a trance.   He saw heaven opened and something like a large sheet being let down to earth by its four corners. It contained all kinds of four-footed animals, as well as reptiles of the earth and birds of the air.  Then a voice told him, "Get up, Peter. Kill and eat." "Surely not, Lord!" Peter replied. "I have never eaten anything impure or unclean."  The voice spoke to him a second time, "Do not call anything impure that God has made clean." This happened three times, and immediately the sheet was taken back to heaven. While Peter was wondering about the meaning of the vision, the men sent by Cornelius found out where Simon's house was and stopped at the gate.  They called out, asking if Simon who was known as Peter was staying there."
So in most Gentile churches when this portion of Scripture is read out loud, afterwards the pastor with a smug smile of satisfaction on his face closes his Bible, looks out to the audience and declares… 
"Could it not be more plain?"
"The Lord had sent to Peter in a vision unclean forbidden animals and told him to kill and EAT them!"

"Therefore, the Lord has ceased from calling them unclean, and that's why it's okay to enjoy your ham sandwiches."
Well, not so fast there Mr. Gentile Pastor.
The first thing we should take note of is that Peter was quite confused about the vision he had just had and didn't immediately jump to any conclusions regarding its meaning. 
And then a few verses later in verse 34, we're told the conclusion Peter came to:
"Then Peter began to speak: "I now realize how true it is that God does not show favoritism but accepts men from every nation who fear him and do what is right."
Peter interpreted this vision to mean that God accepted men from all nations who trusted in Him.
Peter did NOT interpret this to mean that he could now go hog wild (pun intended) and eat whatsoever pleased him.
Let me say that again.
Peter did NOT interpret this to mean that the Kosher food laws were now abolished.
He interpreted it to mean that God would accept all men, in other words Gentiles, who trusted in Him.
According to this Apostle, the one who wrote the actual Scripture of the Book of Acts, this portion of the New Testament is NOT to be taken as an instruction that the laws concerning clean and unclean animals had been done away with.
When Peter had finally figured out the meaning of the baffling vision God had given to him, the conclusion he reached was that it had nothing to do with food.
It had to do with men.
In other words, FOOD was being used as a metaphor representing MEN.
Here's what you need to understand.
Unclean animals were a well-understood and very familiar Jewish symbol that represented the uncleanness of the Gentiles.
This whole story was all about Jews shunning gentiles because Jews considered all gentiles unclean.
In those days, to a Jew, entering a gentile home was like entering a hospital packed with patients carrying all kinds of highly contagious diseases.
If God was going to get His Gospel out to the nations, this mindset had to be broken.
God declared in the Book of Acts "do not call unclean that which I tell you is clean".
And how did God make this truth clear to Peter?
By showing a vision of creatures inside a sheet being lowered down from Heaven.
Most people will assume I'm promoting this viewpoint simply because I'm a Hebrew roots messianic believer.
Well, I'd like to share a quote about this portion of Acts from a revered early church father who was anything but a messianic.
The following is from the Venerable Bede, an English monk who wrote a whole commentary on the Book of Acts in around 700ad.
"I am amazed at how some people interpret this as having to do with certain foods that were prohibited by the old law but that are now to be consumed, since neither serpents nor reptiles can be eaten. Nor did Peter himself understand it in this way. Rather he understood it as meaning that all PEOPLE are equally called to the gospel of Christ and that nothing is naturally defiled. For when he was reproached, he explained the SYMBOLISM of this vision, not as giving the reason why he ate beasts but why he associated with gentiles".