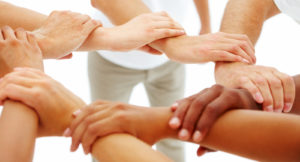 There is a huge misunderstanding concerning unity in the church that has its roots in…wouldn't you know it….mistakenly applying a Greek mindset to this Biblical concept as opposed to a Hebrew mindset.
Now the church generally misunderstands and has a problem with one of God's most fundamental governing dynamics that He uses to deal with mankind.
I am talking about the principle of DIVISION, ELECTION, AND SEPARATION.
If anybody has ever attended a Christian church for any period of time, I'm sure you have heard the pastor preach on the importance of there being UNITY within his congregation.
And if someone dares question what is being preached from the pulpit, that person is asked is asked to leave because he or she is causing DIS-unity.
Given this common perspective in the churches, I'm not sure too many pastors know what to do with the fact that the God of Creation achieves His purposes through the opposite principle of division, election, and separation, NOT unity.
I have a question for you.
Do you know how many times the term "unity" is to be found in the New Testament?
The answer is only five times!
However, in the TANACH, the word for "unity" appears close to one thousand times.
The Hebrew word for unity is ECHAD and it refers to one-ness in reference to the nature and character of God and to Man's relationship to God.
Given its intrinsic connection to God, this word can only correctly be applied within a spiritual context, not a physical or earthly context.
The Greek word for "unity" is HENOTES and while it does mean "unity", the nuance is different than the Hebrew ECHAD.
HENOTES means unity more in the sense of unanimous agreement among others, rather than "one-ness".
On the other hand, ECHAD has the idea of being organically connected to something (in this case God) and growing together.
This results is an inseparable union that creates wholeness.
Do you remember what the Biblical definition of holiness is?
From the Bible's perspective, holiness IS wholeness or completeness, not having any defects.
Now the problem we face is that there really isn't an appropriate Greek word for the Hebrew ECHAD.
While the Greek HENOTES might come close, it doesn't quite capture the Hebrew principle of ECHAD.
Here's what you need to understand.
In the New Testament, in every instance where unity is called for, it is referring to man's relationship with Yeshua, NOT with other men.
That's right.
The concept of ECHAD is about each individual person's union with Yeshua.
Unity flows from man to Yeshua, NOT FROM BELIEVER TO BELIEVER.
Whatever unity there is to be between men must flow through Yeshua.
Think of Yeshua as being like the hub of a spoked wheel.
He is the central point to which all believers are connected, and note that the spokes of a hubbed wheel aren't connected with each other.
Any unity that exists between the spokes is because they are connected to the hub or Yeshua.
So let's get this straight.
The true Biblical concept of unity is NOT about congregation members having to agree with each other on various issues.
That's just Greek rational/logical thought rearing its ugly head again.
Instead, the Biblical concept of ECHAD is about coming into union with mind and person of Yeshua.
I'm talking about one-ness with the Father through Yeshua.
Again, this is just another typical case of the Greek mindset misunderstanding the Hebrew mindset.
This tragic misunderstanding has caused many churches to split up and led to much disharmony in the body.
Disagreement among congregation members is NOT sinful nor is it Biblical disunity.
In fact, I would say that disagreement in the body is a sign of a healthy congregation, especially in comparison to shutting somebody down or kicking them out of the congregation just because they express an alternate viewpoint.
There is plenty of space in the Lord's house for a variety of views, especially on the more vague and challenging parts we find in Scripture, of which there are plenty.
CONNECTING THIS TEACHING TO THE NEW TESTAMENT
"I am the vine; you are the branches.
If you remain in me and I in you,
you will bear much fruit;
apart from me you can do nothing."
-John 15:5