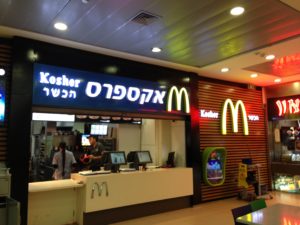 Concerning God's kosher food laws, let me just say that ultimately, I believe the reason they were handed down was simply because they conform to the PATTERN OF HOLINESS the Lord established in the heavens.
If one examines the writings of the great Hebrew sages, it becomes readily apparent that the subject of KASHRUT (Kosher eating) played a dominate role in their thoughts.
And it is also readily apparent that those gentile scholars who dared venture into the Torah, once they got into Leviticus chapter 11, ended up falling flat on their faces.
Why?
Because they are thinking like Greeks and approaching the KOSHER laws searching for the "why" behind the "what".
You cannot apply rational/logical thought to a book written in Hebrew pattern-based analogical thought.
Today one of the most popular reasons given as to "why" God gave the kosher laws is that they were for health and hygiene reasons. 
The idea put forth is that Kosher eating is a formula for a healthy diet.
In other words, the foods God has declared "clean" are nutritious, life-giving foods and the foods God has declared "unclean" are ultimately harmful to the human body in the longer term.
Even that great 12th century Jewish sage Maimonides was a proponent of this view and I have no doubt that the fact he was a medical doctor greatly colored his viewpoint.
Yes, it is true that in its digestive tract, a pig doesn't have four stomachs like clean animals such as sheep and cattle.
And it's also equally true that shellfish like shrimp and lobsters are bottom feeders that will eat practically everything from buried organic waste to decomposing flesh.
However, this health reason viewpoint of "WHY" God gave the Kosher food laws is based on Greek rational/logical progressive thought.
It is culturally oriented and has nothing to do with the Holiness PATTERN the Lord has established in Scripture and thus ultimately will set one off on a path leading to nowhere.
I reject this viewpoint and if you want a Greek rational/logical answer as to "why" I reject it, consider this.
There are people in cultures who vigorously eat all of the creatures God has declared as unclean in Leviticus 11 and they are found to have not only longer life spans but also better than average health over the course of their lives. 
In fact, a perfect case in point is the country where I'm living in right now: Japan.
They have practically perfected the art of UN-KOSHER cuisine.
In fact, the Okinawa Diet is touted as one of the healthiest diets on the planet and this diet consists of a lot of pork.
The Japanese will eat almost anything (especially among the unclean sea creatures), yet according to the World Health Organization (WHO) Japanese women have a life expectancy of 87 – the highest in the world, while male life expectancy  is in the top ten internationally, ahead of the US and UK. 
Now although I am living in a society that eats the most un-kosher food imaginable on a daily basis, rest assured that I stay far, far away from unclean foods but NOT for health reasons.
I eat as the Lord commanded because He said BE HOLY AS I AM HOLY!
So my response to those who say God established the Kosher laws for health and hygiene reasons is this:
HOGWASH!
(Un-kosher pun intended)