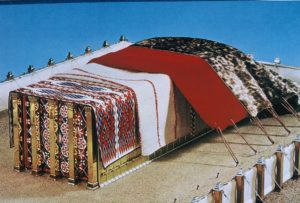 "You are to make a covering for the tent of tanned ram skins and an outer covering of fine leather."-Exodus 26:14
We now come to the tent-covered sanctuary portion of the Tabernacle.
The sanctuary comprised both the Holy of Holies and the Holy Place.
Both of these rooms put together were about 45 feet long, 15 feet wide and 15 feet tall.
The Holy of Holies itself was pretty much a 15 x 15 x 15 foot cube.
The Holy Place was quite a bit larger standing at about 30 (length) x 15 (width) x 15 (height) feet.
Given that the degree of holiness in the tent-covered sanctuary area was higher than the Outer Courtyard, instead of the more common bronze, all the acacia wood used in the construction of the sanctuary was completely covered in pure gold.
We're also talking about a room with layered golden walls!
Imagine the warm, soothing color of amber one would have been bathed in upon entering the sanctuary.
Now there were four layers of cloth each made out of different materials that covered and protected the Tabernacle.
The first and innermost covering was woven out of fine linen.
The second innermost covering was made out of goat's hair.
Goat hair was actually the common material of choice that your average Israelite would have used when making tents.
Also, goat's hair, although not waterproof, would have been pretty effective in keeping out the elements depending on how tight the goat's hair fibers were woven.
But given that they were camping out in the desert, I doubt that rain would have been a problem.
The third covering was a layer of ram skins that the Lord commanded to be dyed totally red.
Next, we encounter a bit of a mystery when we come to the final outermost layer.
The reason is because of the Hebrew word TACHASH that is used to describe the material.
Many translations, including the Complete Jewish Bible, will translate TACHASH to mean "leather".
However, this doesn't make much sense because tanned leather from cattle was already very common and I've heard there was already a commonly recognized word (don't know what it is though, if anybody out there knows please tell me) used to describe it. 
The word TACHAH is ONLY used in the context of the Wilderness Tabernacle.
According to the Jewish sages, the outer covering was made out of porpoise or seal skins.
Now this makes much more sense.
The Israelites were very near the Red Sea where both of these creatures were plentiful and the Israelites with all of the gold they took from Egypt could have easily bartered for them from local seaside residents.