Today we begin Genesis Chapter 3.  
For the Complete Jewish Bible click here.  
If you're a King James diehard, click here.
 Now the serpent was more crafty than any wild animal which Adonai, God, had made.
-Genesis 3:1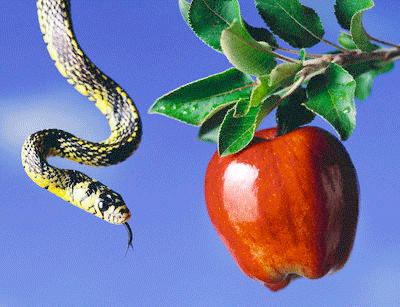 The ancient rabbis have pointed out something interesting.
When most people read this verse, we tend to read it like this: 
"Now the serpent was more cunning than any OTHER beast in the field."
In the English language with our Western mindset, we have a tendency to mentally insert the word "other" into the text.
But it's actually not there in the original text.
Do you see the difference?
The serpent was NOT another animal of the many animals in the garden. 
The serpent was not even classified as an animal. 
It was a totally different and distinct being altogether. 
First, of all this being could talk and apparently unlike the serpents we know today, this being could walk.
What's going on here?
Did the spirit of satan take over some random snake slithering around (actually at this stage still walking) in the garden.
The ancient sages have something to say about this as well.
Satan is the great counterfeiter.
In order to keep the world in darkness and fool mankind, Satan will imitate the miracles of God.
So the rabbis suggest that the serpent in the garden was actually satan's attempt to mimic God by creating counterfeit life.
Notice also, that this serpent was INSIDE THE GARDEN but that he would later be thrown out.
Now do you remember the "AS-IN-HEAVEN-SO-ON-EARTH Principle", I discussed?
You can read my post about it here.
But here's a quick recap.
The "AS-IN-HEAVEN-SO-ON-EARTH-PRINCIPLE" is the idea that events and physical objects depicted in the Scriptures mirror spiritual truths or events that occur in the heavens.
So we have this serpent who was the embodiment of the devil inside God's sacred garden, but was later thrown out.
This is an exact physical mirror of the story of how satan who dwelled with God in the heavens was kicked out due to his rebellion.