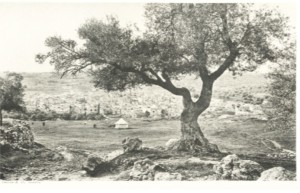 Hebron, where Sarah was buried, is very significant because all three patriarchs were buried there.
It should also be noted that when David became King of Judah, he chose to make Hebron Israel's first capital city.
No doubt his choice was connected to the great reverence attached to Hebron due to it being the burial place of the founders of Israel.
"Hebron" is spelled chevron in Hebrew.
It basically means a "community" or "alliance".
Next to Jerusalem, this is the most important city in the Bible.
However, the name of this city does not occur in any of the prophets or in the New Testament.
But it is found about forty times in the Old Testament.
For obvious reasons, it was the favorite home of Abraham.
-Abraham pitched his tent under the now famous Oaks of Mamre here.
-As we went over, Abraham's wife Sarah died, and was buried in the cave of Machpelah here.
-It was from this place that the patriarch departed for Egypt by way of Beersheba.
 -This city was taken by Joshua and given to Caleb.
-It became a Levitical city and a city of refuge.
-As King of Judah, Hebron was David's royal residence, and he was anointed as king over all Israel there.
So what is the situation of Hebron today?
Unfortunately, this area is primarily occupied by Israel's arch enemy, the Palestinians.
Currently, Hebron is the largest city in the West Bank with a population of around 170 000 people.
The area has been divided into two parts: H1 and H2.
The H1 area, home to around 140 000 Palestinians, is under the control of the Palestinian authorities.
The H2 area now inhabited by around 30 000 Palestinians and approximately 500 Israeli settlers is under Israeli military control.
NEXT TIME WE BEGIN GENESIS CHAPTER 24